AVIDS-H1G-Full HD – AV over IP Distribution System Support Video Wall and KVM
Compare
Description
Specification
CONNECTION DIAGRAM
DOWNLOAD
Store Policies
Inquiries
Description
Features
* VISUAL SENSE™ :
Combined Audio/Video – KVM – Video Wall distribution of the whole system without using switcher devices.
*OPTIMAL SENSE™ :
Real time preview and synchronous signal. Integrated Centralized Control for other devices in Command Center Room like AC, Projector, Speakers, Lighting and other peripherals devices through RS-232, RS-485, IR, I/O…
* CONTROL SENSE™ :
Realtime management and control of multiple PC in the whole system. Command Center feature support Push – Pull, Flexi Console, Cross Screen Switch, KVM Lock.
* CUSTOM SENSE™ :
The user interface can be customized on both Windows and Mobile devices to suit different type of project and scenarios. Supports all type of displays : LCD, DLP, Projector, LED etc.
 HDMI in/out, Audio and USB ports
 RS-232, RS-485, IR
 Videowall with un-limit Layers
 Gigabit Ethernet – Adaptive TCP/IP control
 Extender, splitter, matrix, KVM switc and video wall in one solution
 Support seamless switching
 Scrolling Text – Preview – Echo signal
 Support USB for extended KVM applications.
 Hybrid Node™ : One unit can be Tx or Rx
 Remote Power ON/OFF
 VISUAL SENSE™
 OPTIMAL SENSE™
 CONTROL SENSE™ – with Push-Pull
 CUSTOM SENSE™
Specification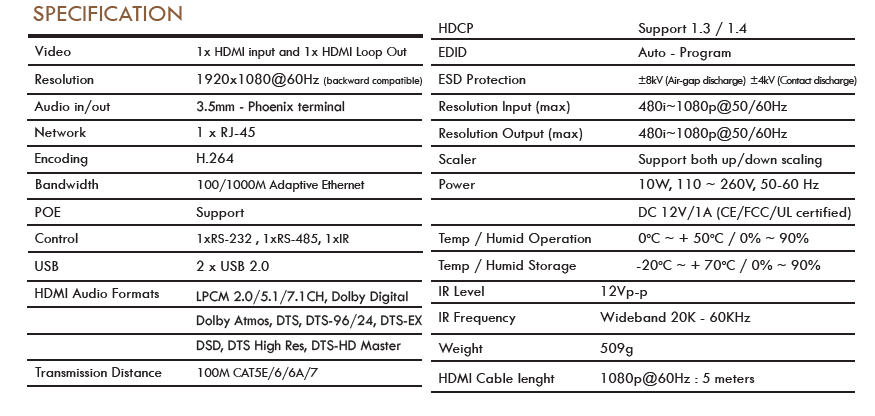 CONNECTION DIAGRAM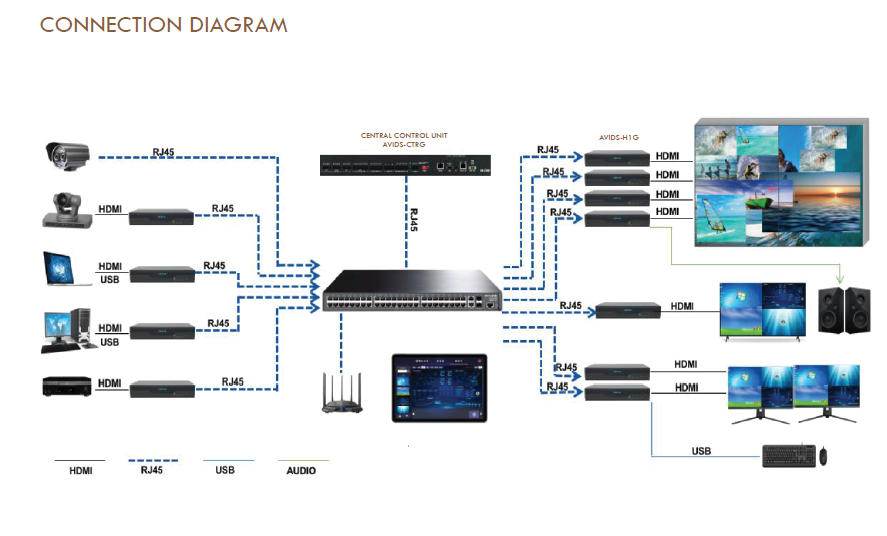 General Inquiries
There are no inquiries yet.