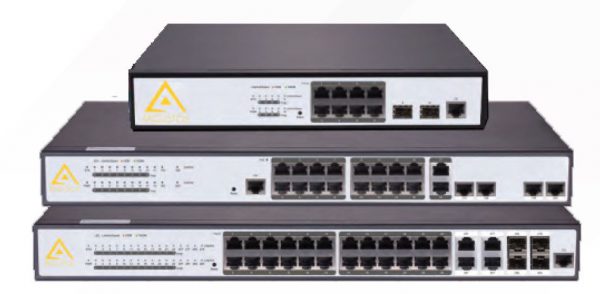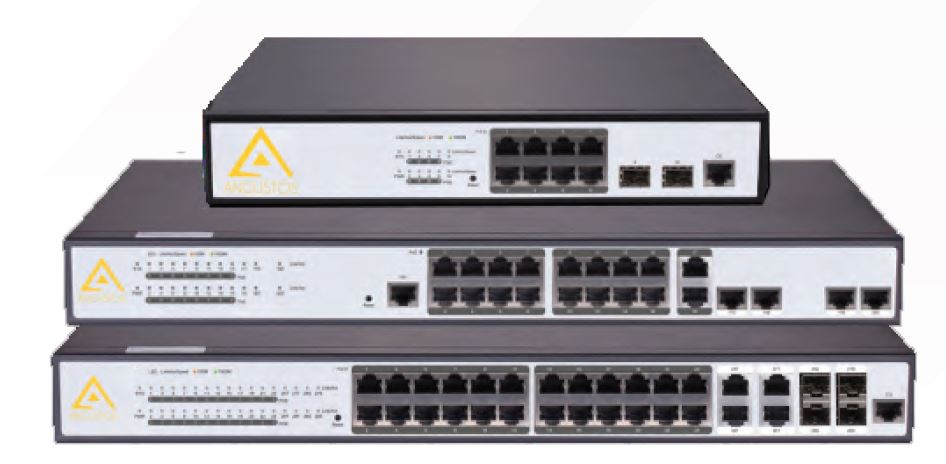 AS-2528-BP – LAYER 2 Full Gigabit POE – 24 GE POE Port – 4 x GE TX/SFP Combo
Compare
Description
FEATURES
SPECIFICATION
DOWNLOAD
CONFIGURATION
COMMAND
Store Policies
Inquiries
Description
Angustos ASP Series is Full-gigabit, large power network switch suitable for medium size Data and Power distribution. Designed for Carrier, Data Center and Enterprise centralized networks that required stability and durability. Support latest features of networking protocols : Ring protection, STP/RSTP/MSTP, backup routing, LCAP link aggregation. ACL function to access and control L2-L7 data based on physical port. Support new-generation L2 multicast functions with IGMP-Snooping, fast-leave and MRV.
FEATURES
POE+
• IEEE 802.3af & IEEE 802.3at POE standards
• Large POE budget, mapping scale up to 370W POE+ power.
• Manual or dynamic power allocation with non stop power supply
• 2KV thunder-proof of POE port and power supply
Advance Security
• Level-based packet schedule, packet protection
• Prevent DoS-/TCP SYN Flood, UDP Flood, Storm
• Command Line protection with user permission level
• Support IEEE 802.1x, RADIUS and BDTacacs+.
• Support Multicast/Unicast Storm limit.
• Support Perfect Ring detection
• Port isolation within VLAN, DHCP-Snooping
• Support IP + MAC + Port binding.
Enhanced QoS
• Retagging and Flow classification based on VLAN, MAC, IP or priority.
• Flexible bandwidth control policies, support flow limit to ensure quality
• Queue schedule algorithms with SP, WRR or SP + WRR
Flexbile Networking
• Easy Maintenance with CLI/ Telnet/ SSH/ SSL and SNMP.
• Web GUI module built-in for easy managment procedures.
• Support FTP, TFTP, SFTP, ISSU. Zero Touch Provisioning.
• Automatic equipment discovery, network topology, equipment configuration, performance data statistic and analysis.
VLAN
· 4K Active VLAN,
· QinQ & Selective QinQ,
· GVRP, Private VLAN,
· Voice VLAN
Spanning Tree
· 802.1D (STP),
· 802.1W(RSTP) and 802.1S(MSTP)
· BPDU guard, root guard and loopback guard
Multicast
· IGMP v1/2/3
· IGMP Snooping / IGMP Fast Leave
· IGMP Filter / MVR
IP
· Static route
· RIP, OSPF
· 512 routing table
· IPv4/v6 dual stack
· DHCP Server/Client/Relay
Basic Standards
· IEEE 802.3 – 10Mbit/s
· IEEE 802.3ab – G.bit/s Base-T
· IEEE 802.3z – G.bit/s Base-X
· IEEE 802.3u – 10/100 Mbit/s auto
· IEEE 802.3at – POE +
QoS
· CAR, HQoS, MAC/IP/TCP/UDP/
VLAN/COS/DSCP/TOS based
· QoS, 802.1P/DSCP priority relabeling, SP, WRR, and "SP+WRR",
· Tail-Drop, WRED, flow monitoring and traffic shaping
Security
· Port isolation, Port security, and "IP+MAC+port" binding, MAC sticky DHCP Snooping and option 82,
DAI & IP source guard, PPPoE+,
· IEEE 802.1x, Radius and BDTacacs+
· L2/L3/L4 ACL flow identification and filtration Anti-attack from DDoS, TCP's SYN Flood, UDP Flood, etc.
· Broadcast/multicast/unknown unicast storm-control
· Md5, SHA-256, RSA-1024, AES256, etc.
Environment
· Operating temperature/humidity:
-10°C-60°C, 0%-90% non-condensing
· Storage temperature/humidity :
-20°C-70°C, 0%-90% non-condensing
Stability
· Static/LACP link aggregation, Interface backup
· EAPS and ERPS
· ISSU
Management
· Console, Telnet,SSH v1/2,HTTP, HTTPS SNMP v1/v2/v3, RMON
·TFTP, FTP, SFTP
· NTP
· ZTP(Zero Touch Provisioning) SPAN, RSPAN
SPECIFICATION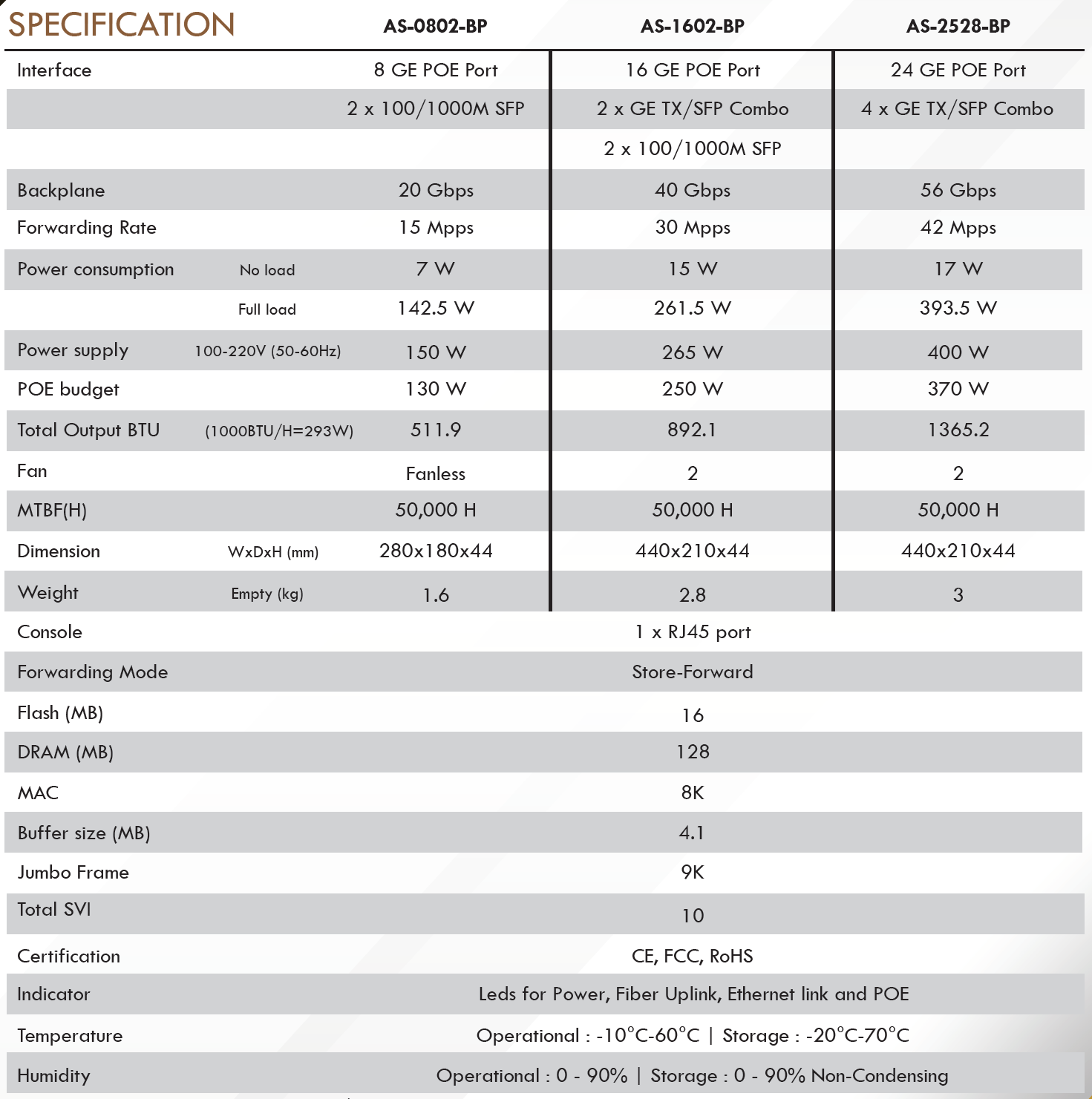 General Inquiries
There are no inquiries yet.