Description
Specification
CONNECTION DIAGRAM
Datasheet
Store Policies
Inquiries
Description
Angustos AL-V700L LCD KVM Console Drawer is optimized for high density Rack in modern Data Center.
Integrating a 17" LED screen, keyboard and mouse pad in a 1U rackmountable sliding housing. The short-depth design console is ultilized for narrow space for short-rack mounting in condensed area. The AL-V700L can connected directly to server for convenience configuration. Compatible with Angustos or other brand KVM Switch unit without any difficulties.
In addition, the AL-V700L included an additional hot-pluggable USB port that supports other keyboard and mouse for back-up. With all of the technology involved, the AL-V700L LCD KVM Console has gone beyond the expectations and requirements for a modern Data Center use, which including : short space optimization, exceptional display quality, easy to install, extreme versatility.
Specification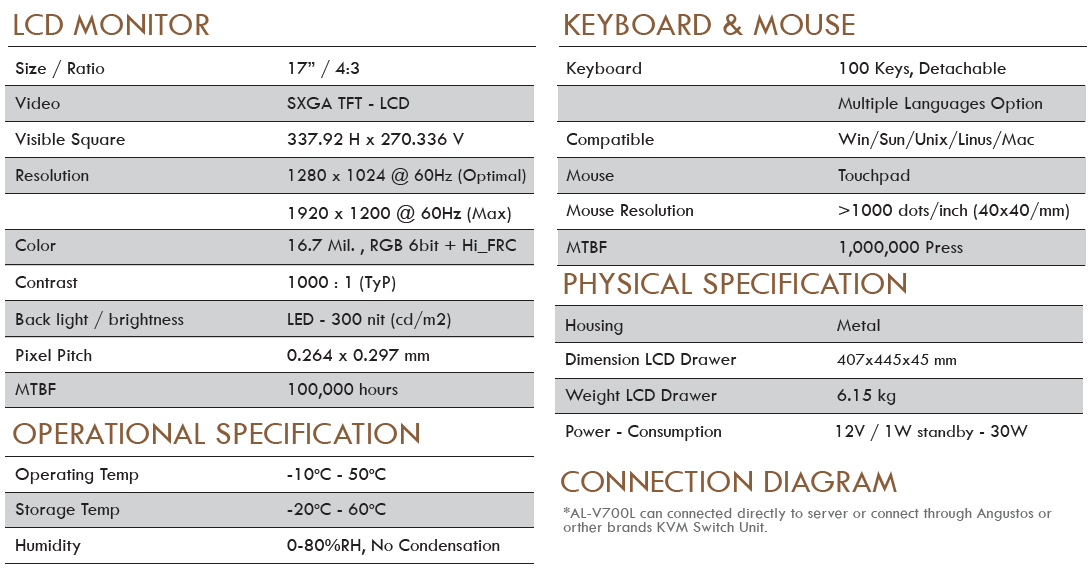 CONNECTION DIAGRAM
General Inquiries
There are no inquiries yet.